Air Source Heat Pump--- Air Conditioner & Water Heating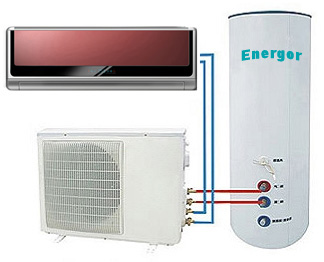 Features:
★ Safty,the electricity is completely separated from water,without any poisonous gas,liquid or trash letting while running. 
★ Save energy and protect environment,dual-use as air conditioner and water heater,the heat efficiency can up to 800%. 
★ Supply water anytime,and not be affected by geographical and weather changing.
★ Supply strong multi-point hot water,comfortable to use at anytime in need.
★ Intelligent control,the water temperature can be adjusted as needed and controlled by micro-computer automatiically.
★ Long life,the life can be 15~18 years.